Pastor's Statement of Faith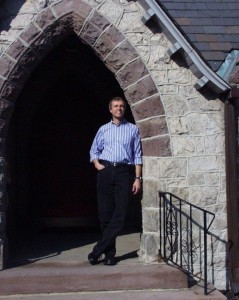 In the process of being accepted back into the Philadelphia Presbytery, I was asked to write a "one page" statement of faith.  That's not easy!  It was hard for me to state "all that I believe" in just one page!  The following is my attempt to do so.  I hope you enjoy it, and I hope it gives you cause to think about what you believe!
+++++++++++++++++++++++++++++++++++++++++++++++++++++++++++++++++++
Statement of Faith – George Brecht, 2005
I believe in God, who is beyond our ability to comprehend. I believe in an all-powerful God by whose will all things were created in a process that we also cannot begin to comprehend. I believe in God who is wonderfully expressed by C. S. Lewis in the image of the great lion Aslan, who is described as being an "Un-tame lion." When the question was asked "Is he safe?" the answer was, "Of course he's not safe. But he is good." All theology and doctrine is an attempt to know and understand this God, and serves that purpose. Any time we stray from that purpose, we have lost the reason for our theology.
I believe in a God who very well may be the essence of love.  John wrote, "Whoever does not love does not know God, for God is love." (I John 4:8)  In the love of God is the desire to know us intimately. Because of that love, the God of all creation created us male and female in his own image. God loved us so much, that he created us with free will, for it is only through free choice that love for God is truly expressed and God is truly known.  That's because free will also means that we can choose to turn away from God.  So God "took a chance" in loving us and giving us that free will, knowing that we also had the capacity to reject his love.  But I believe that God so desired to be in relationship with us, he became one like us. Through his atonement, Jesus became the means by which fallen people can find their way back to God. Crucified, he paid the price for our disobedience. Risen, he reigns with the Father in heaven, for they are one. God's Written Word in the Holy Scripture is the authority by which we know of God's love and plan for us.
As we live our lives in relationship with the "unknowable" God, we seek the presence of the Holy Spirit. The Spirit upholds us in our times of difficulty by making us aware of God's very presence. Through the Holy Spirit, God is with us in all times of our lives, including the joyful, ecstatic times in which God rejoices with us, and in the difficult times when God grieves with us and upholds us.
We, as the "priesthood of all believers," have the privilege and joy of being connected with our Creator in prayer. Prayer is the means by which we share all times and experiences of our lives with God in the same way we would share with an earthly friend. Prayer is listening as well as talking. It is praising God as well as petitioning and sometimes even pleading with God.  Prayer is sharing with God the intimacy of our lives, and it is also the pouring out of our souls in anguish.
I believe it is the desire of God to "know us" and to "be known" in a deep sense of intimate relationship. But people – even believers – can forget that relationship. Too often the Church has substituted "knowing the right things" for "knowing God." In Jesus' own words, it will be said of some who claim to have done all kinds of great things in his name, "…I didn't know you."  Too often the Church has forgotten the first point of the catechism, that the "Chief end of man" is "to glorify God and enjoy him forever." The pursuit of that intimacy with God should be the aim and desire of every believer.
The Church, the mystical body of Christ, has chosen to be connected with God in and through certain "remembrance points" which were instituted by Jesus himself. These we call our sacraments. These sacraments have many levels of depth. They are as familiar as a shared meal, and at the same time they are so deep that we can no more understand their true nature than we can understand fully the nature of the God who gave them to us, and who communes with us through them.